Power Distribution Center, Fuse Block, Junction Block, Relays and Fuses for 2019 Jeep Grand Cherokee
No.
Part # / Description
/ Price
Price
Power Iso Relay
High Current 4 Terminal. Dual Source, Supplier # Either 13742705 Or 897H-1AH-D-R1 12VDC. 13742705 or 897h1ahdr1. Dark gray g8jr1a7trcr01dc12. Delphi Stamp # 13742705 Son Chuan # 897H-1AH-D-R1.
Connector Can Buss
Star. 13 Way Green Connector. Can distributor block. Green 13 Way Can C. Can Buss 13 Way Green. Star. 13 Way Green 60 OHM Key B Tyco #214186475. Star. 13 Way Neutral 60 Ohm Key B Tyco # 221386855.
Discontinued
Fuse Block
Contains Jump Post. For Components See 8 - 515. Contains positive remote jump terminal and fuses serviced in fuse block only.
Discontinued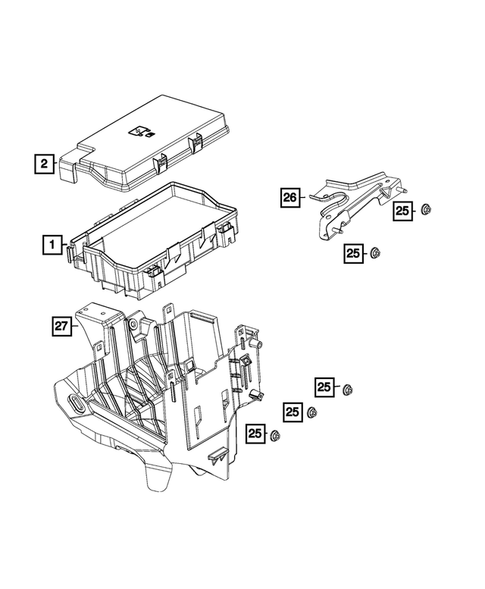 No.
Part # / Description
/ Price
Price
Mopar Electrical Relay (56029766AC)
Electrical Relay
Automotive electrical relays are not only useful for switching and activating circuitry and other logic functions - they can also help you save money. Keep your vehicle's circuitry up-and-running with original OEM electrical relays from MoparOnline ...
No.
Part # / Description
/ Price
Price