Rear Axle Assembly for 2018 Jeep Grand Cherokee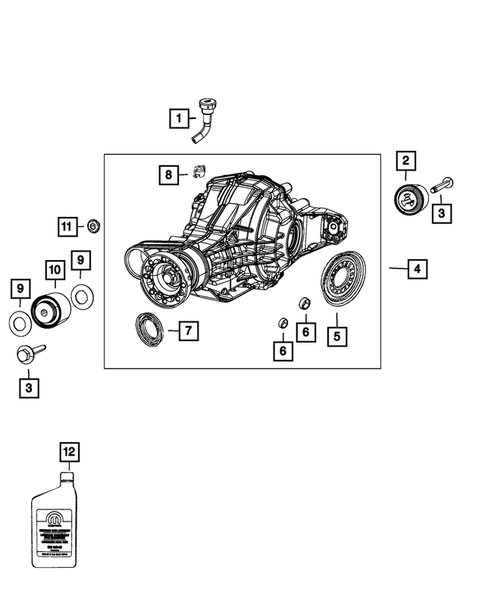 No.
Part # / Description
/ Price
Price
Discontinued
Mopar Differential Mount (68091398AA)
Differential Mount
This genuine OEM differential mount from MoparOnlineParts secures your vehicle's differential in its position. Enjoy great savings on this essential item for Jeep, Dodge, Ram, and Chrysler models with reasonable prices. Our differential mounts also ...
Hex Head Screw And Washer
M12x1.5x100.00. Rear Differential Mount to Differential. Brace to Craddle. Brace to Cradle. Screw hex head.
Drive Pinion Seal
MoparOnlineParts offers genuine Drive Pinion Seals for select Chrysler, Dodge, and Jeep vehicles. These OEM auto accessories are available at low prices in our online store. These Drive Pinion Seals also come with their original warranties that are valid for a minimum of 12 months. And to ensure smoother online transactions, we provide expert customer assistance and maximum privacy.
Mopar Hex Flange Lock Nut (6104718AA)
Hex Flange Lock Nut
Make sure that your vehicle's sway bar is firm and secure with a genuine OEM hex flange lock nut from MoparOnlineParts. This particular fastener is specially designed for Chrysler, Dodge, and Jeep vehicles. MoparOnlineParts carries OEM fasteners for various Jeep, Dodge, Ram, and Chrysler models at low prices. Our products come with a manufacturer's warranty upon purchase to ensure instant replacement in case of defects. We also provide expert in- house assistance and maximum online privacy.