Keys, Modules and Engine Controllers for 2017 Jeep/Wagoneer Grand Cherokee
No.
Part # / Description
/ Price
Price
Mopar Spoiler Nut (6510663AA)
Hex Lock Nut And Washer
Install your vehicle's spoiler easily with a genuine spoiler nut from MoparOnlineParts. This product will perfectly fit a variety of Chrysler and Dodge vehicles. We also offer spoiler nuts at reasonable prices for great savings. You can even enjoy original product warranties, expert customer assistance, and maximum online privacy while you shop on our site.
Keyless Entry Antenna
Remote Start And Keyless Entry Antenna
BEARING Camshaft #3 Notes: Note. ANTENNA Remote Start And Keyless Entry. Sales Codes. [EH0]= All 3.9L Gas Engines. [ELF]= Magnum 5.2L V-8. [EL0]= All 5.2L Gas Engines. [EM0]= All 5.9L Gas Engines.
Transmitter Battery
2
A wireless ignition node (WIN) receiver (05066241AB) allows you to remotely start and lock your vehicle. This system communicates with the Controller Area Network (CAN) data bus and connects to several electronic systems like the Tire Pressure Monitoring ( ...
2 This part contains hazardous materials. Extra shipping costs apply.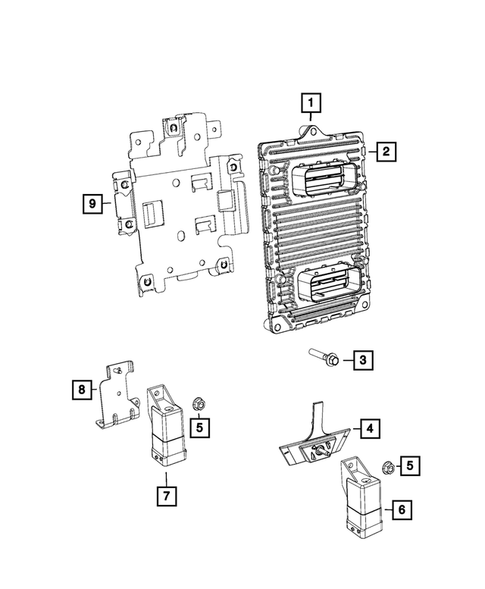 No.
Part # / Description
/ Price
Price
Engine Controller Module
1
Get Engine Control Modules for your vehicle at affordable prices. This item is guaranteed with perfect fitment and comes with a minimum of 12 months warranty. Check out MoparOnlineParts' long list of OEM replacement parts and accessories. If you have questions about this product, our in-house experts will be more than happy to make sure all your answers are answered with clarity.
Hex Screw
M6x1x35. NGC to Ground. ECM To Bracket. Engine Controller To Bracket. Engine Control Module To Body.
1 This price excludes a refundable manufacturer's core charge. Add the part to your cart to see the core charge.
No.
Part # / Description
/ Price
Price
Discontinued
Hex Head Bolt And Washer
Torx T-30. This repair screw is only used in place of production screw 06104368aa if the hole is stripped out.