No.
Part # / Description
/ Price
Price
Fuel Filler Cap
Get Cap for your Dodge at affordable prices. This item is guaranteed with perfect fitment and comes with a minimum of 12 months warranty. Check out MoparOnlineParts' long list of OEM replacement parts and accessories. If you have questions about this product, our in-house experts will be more than happy to make sure all your answers are answered with clarity.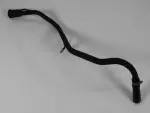 Mopar Filler Hose (68064408AC)
Fuel Filler Tube Hose
Do you need a high-quality filler hose for your vehicle? Get one for a discounted price when you visit MoparOnlineParts today. We offer this OEM filler hose for 2011-2018 Chrysler 300 and Dodge Charger models. The product comes with an original manufacturer's warranty that has a minimum validity period of 12 months. You'll receive this warranty along with your purchase. We even offer expert customer assistance and maximum online privacy for faster and safer transactions.