Vacuum Canister/Leak Detection Pump for 2015 Dodge Challenger
No.
Part # / Description
/ Price
Price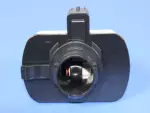 Genuine Alfa Romeo Seal Vapor Canister
Vapor Canister Seal
This Mopar vapor canister seal (52129436AB) helps regulate the emission control system of your ride. These seals minimize the fumes and harmful emissions coming out of your engine by trapping fuel vapors. These canister seals contain activated charcoal to ...
Leak Detection Pump Filter
MoparOnlineParts offers genuine Leak Detection Pump Filters for select Chrysler, Dodge, and Jeep vehicles. These OEM auto accessories are available at low prices in our online store. These Leak Detection Pump Filters also come with their original warranties that are valid for a minimum of 12 months. And to ensure smoother online transactions, we provide expert customer assistance and maximum privacy.
Hex Nut And Washer
Hex Nut And Washer, Mounting
M6x1.00. Fuel Filler Upper To Body. Plenum Dash Trough To Body. Vapor Canister Assembly to Body. HVAC to Instrument Panel. Console To Bracket. HVAC unit to Magebeam. Hvac unit to i/p.