Aperture Panel and Pillar Supports for 2015 Dodge Challenger
No.
Part # / Description
/ Price
Price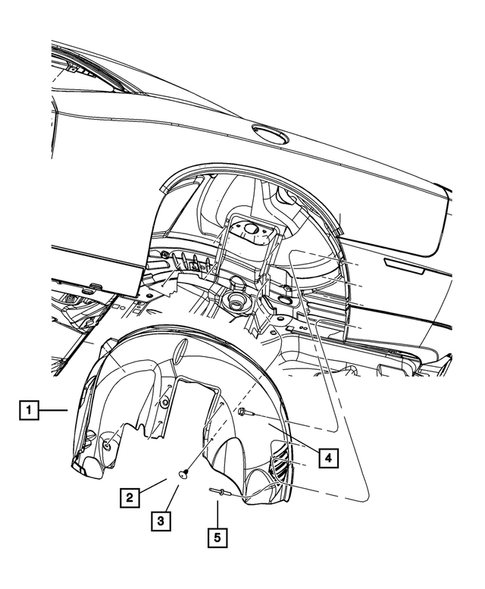 No.
Part # / Description
/ Price
Price
Nut And Washer
M6x1.00. Splash Shield To Body. Splash Shield to Wheelhouse. Splash shield to with house. Splash To Rear Wheelhouse. Rear Splash To Body.
Splash Shield, Right
MoparOnlineParts offers genuine Wheelhouse Liners for select Dodge Challenger vehicles. These OEM auto accessories are available at low prices in our online store. These Wheelhouse Liners also come with their original warranties that are valid for a minimum of 12 months. And to ensure smoother online transactions, we provide expert customer assistance and maximum privacy.
Push Pin (sold individually)
Push Pin
This push-type retainer (6506132AA) secures and maintains the fender liners of your vehicle. The push pins fit the inner fender liners so they mount to the left and right side of your car. Fender liners are placed between the fender and engine. These line ...
Push Pin
A wheelhouse liner pin is present to safely secure your Dodge Charger's wheelhouse liner. Without a wheelhouse liner, your vehicle's underhood may be at risk of being damaged by mud, dirt, and debris. With such an important role in your vehicle's durability, it's vital to keep your wheelhouse liner pins in elite shape. Replace old pins with fresh 100 percent durable, authentic, and discounted Dodge Charger wheelhouse liner pins from MoparOnlineParts.
Mopar Fender Liner Rivet (6504737)
Plastic Rivet
Fender liner rivets (06504737) are essential hardware for securing the fender liners of your vehicle. These rivets ensure that your fender liners keep protecting your engine bay from dirt, water, road debris, and other elements. These fasteners are also us ...