Crankcase Ventilation for 2004 Jeep Grand Cherokee
No.
Part # / Description
/ Price
Price
Breather Tube
Refer To Group 14 Illustration 820. Resonator To Right Side Cylinder Head. Resonator To Right Cylinder Head With Breather Filters.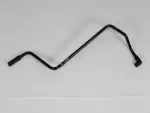 Mopar PCV Valve
Crankcase Vent Valve
We house a wide array of PCV valves. Each one is an authentic OEM product that's designed to fit select Jeep and Dodge models. All of our items also include a warranty that's valid for at least 12 months. For more details about this product, our in-house experts would be glad to answer inquiries. At MoparOnlineParts, we ensure information security so you can have a safe shopping experience.
O Ring
PCV Valve Oring. Crankcase Vent Valve.
Mopar Breather Element
Crankcase Breather
Our Mopar breather element are guaranteed to fit selected Dodge and Jeep vehicles perfectly. This dimensions of this piece are 8 inches in length and 4 inches in height and width. We also have in-house experts that would be happy to assist you with this product or answer your questions about this item. Furthermore, MoparOnlineParts makes sure that information security is top priority so that you can shop safely.