Spark Plugs-Cables-Coils for 2004 Jeep Grand Cherokee
No.
Part # / Description
/ Price
Price
Mopar Spark Plug
Spark Plug
Spark plugs emit the spark that's needed to ignite the combustion that will jumpstart your vehicle. With spark plugs playing such an important role in your vehicle, these parts should be kept in peak shape. Anything less than that may result in bad ...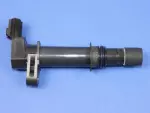 Mopar Ignition Coil (56028138AF)
Ignition Coil
Find OEM ignition coils for your vehicle here at MoparOnlineParts. We stock these genuine parts for Dodge and Jeep models. Our ignition coils come with original manufacturer's warranties. You'll receive them along with your purchase. We even provide expert assistance and maximum privacy to our customers. These privileges help ensure faster and safer online transactions.