Air Conditioning Compressor Mounting for 2004 Jeep Grand Cherokee
No.
Part # / Description
/ Price
Price
Discontinued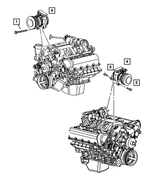 Screw And Washer
M10x1.5x45. Mounting. A/c compressor to lwr otr brace. Also ill in group 24. A/C Compressor to Lower Outer Brace.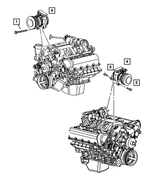 Hex Flange Head Bolt, Mounting
Hex Head Screw
Bedplate To Cylinder Block. Mega Cab. Main Bearing Cap To Cylinder Block. Rocker Shaft Mounting. Rocker Shaft to Cylinder Head. Crankshaft Bearing. M8x1.25x50.00. Quad Cab. Regular Cab. Rocker Arm Shaft.
No.
Part # / Description
/ Price
Price
Hex Head Bolt And Washer
Screw And Washer
MoparOnlineParts offers genuine Starter Bolts for select Dodge or Ram vehicles. These OEM auto accessories are available at low prices in our online store. These quality Starter Bolts also come with their original warranties that are valid for a minimum of 12 months. And to ensure smoother online transactions, we provide expert customer assistance and maximum privacy.